Crooked nose? Plastic surgery!
People who don't have a perfectly shaped nose are sometimes subjected to rude or intimidating comments. While that may be no big deal to one person, it may be a serious cosmetic problem for someone else. In addition, if you have trouble breathing from one or both sides of your nose it is already too much to take. Where to seek help? Can surgery reshape your nose and improve its function if needed?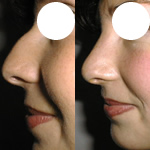 What experience do you have in plastic nose surgery?
"The nose job" (alias Rhinoplasty) is the most complicated of the facial plastic surgical operations and requires a highly skilled surgeon. We are happy to say that our results are very good and our patients are satisfied with our job. The current global trend in this field is septorhinoplasty which is rarely performed in the Czech Republic.
What is the difference between Rhinoplasty and Septorhinoplasty?
Rhinoplasty is a surgery on the outer nose only. Aside from appearance the nose also has important functions related to breathing, smelling, vibrating etc. Formerly the operation used to be phased in two steps ¨C a surgical intervention inside the nose at first, followed by an intervention on the outer nose. This process subjected a patient to double anesthesia and the results were worse.
When combined with an operation on the septum and nasal tissue, it is called a Septorhinoplasty. Therefore, in LENTE a full assessment of your nose is carried out by a plastic surgeon in conjunction with a nose ENT specialist. We use video endoscopy, PLASMA(Coblation) and a laser. Our coordinated team using the most advanced equipment will produce significantly improved results in patient well being and lead to a reduction of recovery time.
Who is in charge of plastic nose surgery?
Vaclav Pavelec M.D. PhD cooperates with famous plastic surgeon and CEO of the Plastic surgery sanatorium Chotoviny u Tabora, Dusan Vlcek M.D. In relation to plastic nose surgery both have been thoroughly trained in established top facilities in the USA. Dusan Vlcek operated in Dallas, New York and Chicaco, Vaclav Pavelec in Washington. Their actual cooperation has been then mastered on numerous models and training mannequins.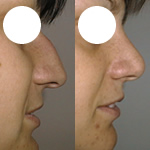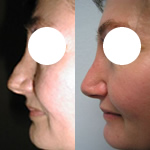 How is the surgery performed?
Nasal surgeries don´t require a long hospitalization, that means a patient is admitted in the morning and leaves the next day. The operation is carried out under general anesthesia, lasting approximately one hour. The intervention doesn't require the use of a nasal tamponade, instead the patient is provided with a special splint which is then removed after a week. The patient is able to return to work in 5 days.
In what location do you perform these operations?
Both the examination and the surgery are performed in LENTE located on Boettinger street in Pilsen or in the Sanatorium Chotoviny. Our patients can enjoy not only the good results of our work but also pleasant surroundings and atmosphere, friendly staff and excellent care.